Swift Removals Torrevieja to the UK
Removals Torrevieja Costa Blanca to the UK: Welcome to Swift Removals. We are specialists in providing removal services between Torrevieja and the UK and have been operating our business for over 20 years (originally in Somerset). We can collect your possessions in Torrevieja, wrap them up, box them, store them and then move them to your desired location in the United Kingdom.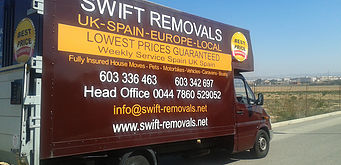 If you are intending to relocate from Torrevieja, Costa Blanca to the United Kingdom or are planning to move from the UK to Torrevieja then we we should be able to assist you with all aspects of your move.
Storage Facilities - We can provide dry, secure and clean storage facilities in Spain, in our fully alarmed and insured storage facility in Catral on the Costa Blanca, Spain. From here we can move your possessions to the United Kingdom at a time that best suits you.
Other Services - Apart from general household goods we can also move motorbikes, automobiles, boats, caravans or even pets from Torrevieja to the United Kingdom or Europe.
So if you happen to be moving from Torrevieja, Costa Blanca to another destination in Spain, to the UK or from the United Kingdom to Torrevieja, CALL US NOW ON: 0034 603 336 463 (Quoting "Steve's Deals" for the best price). And we will visit you to give an estimate of the costs and explain how it all works.
We specialize in removals to and from the Costa Calida and Costa Blanca Spain.
Call Steve 0034 603 336 463 - Give Code "STEVE'S DEALS" for the best price.
Removals Torrevieja to UK - Removals UK to Torrevieja Costa Blanca - Removals Torrevieja Spain to UK - Spain to UK Removals